Compassionate & Result-Oriented Lawyer
Ololade Law Office is committed to taking care of your Family Law issues effectively. Our office is dedicated to treating your family issues in confidence while treating you with courtesy and respect. Proudly serving the Niagara Region, we look forward to meeting you.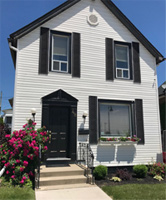 Serving the Niagara Region
Ololade Law has been serving the Niagara Region since 2003 paying close attention to the integrity and ethics of the profession. Ololade Law Office has been at 48 Carlisle Street in St. Catharines, Ontario since 2008.
Our areas of practice are in Family Law including Child Protection and Wills. We welcome you and are prepared to help you with your Family Law needs.
Please call 905-684-1116 or send an fololade@bellnet.ca.
Ololade Law Office welcomes you and your family. Practicing law since 1988!